---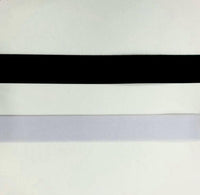 Woven Elastic
Regular price £0.75
Tax included.
Woven elastic can also be referred to as 'no-roll' elastic and as such is a great elastic to use in garment casings. It has more strength than the braided versions. When it is stretched it does NOT narrow as the braided elastics do and can be sewn without it weakening or shredding.
Available in    20 mm (3/4"),    25 mm (1"),    40 mm (11/2"),    50 mm (2")
Black and White
If more than 10 metres is required, please contact the shop direct or buy multiples online and state in the NOTES that you require it in a continuous length.                              
FLAT RATE SHIPPING APPLIES TO THIS PRODUCT