---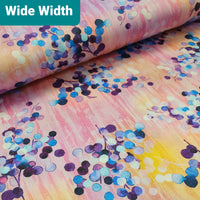 Wide Width Backing : Nature's Pace
WIDENATURE-50
Regular price £15.00
Tax included.
EXTRA WIDE BACKING FABRIC

Nature's Pace has an almost painted look to the colour. Blue and Purple berries on a soft pink/lavender background picked out with splashes of yellow.

Comp: 100% cotton
Colour: Lavender
Width: 274cm (108")
Code: 20718-23
SKU: WIDENATURE
Great for backing your larger quilts with no seams!
Colours may vary due to differences in computer settings. If you would like a sample of this fabric, email us at fabricfocus@outlook.com.