---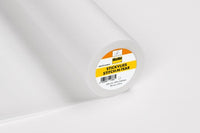 Stitch and Tear
Regular price £1.80
Tax included.
Stitch and Tear
White

Properties
Sewable, tear-off embroidery backing.
70% CV, 30% Cellulose
40 g/ m2
90 cm / 36" wide
Fabrics:
Backing for embroidery and appliqués, sewing aid for the individual design and production of patchwork patterns and stitching work and for the transfer of motifs to the right side of fabrics. Suitable for all fabrics. Also suitable for embroidery hoops.
Product benefits:
accurate results

no stretching of the fabric

can be traced using a soft pencil

easy to tear off
---
Description:
Put a piece of Stitch-n-Tear somewhat bigger than the motif under the fabric and embroider.

Then tear out the Stitch-n-Tear.
---
Important notice
WE RECOMMEND TO TEST THE PRODUCTS BEFORE STARTING PROCESSING.
Product information taken from www.vlieseline.com

Colours may vary due to differences in computer settings. If you would like a sample of this fabric, email us at fabricfocus@outlook.com.

If you are looking for more meterage than is listed please get in touch and we will be happy to help!