---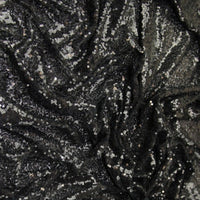 Sequin Tulle - Black
Regular price £5.00
Tax included.
Comp. 100% polyester
Width. 130cm/51"  115cm/45"usable sequin width
Weight. 170 gsm
All over sequins embroidered onto soft tulle.
Please note this fabric is sold as seen, we will try our best to make sure the fabric is perfect, but sequins may become displaced. 
Colours may vary due to differences in computer settings.
If you would like a sample of any of the fabrics shown online simply email us at fabricfocus@outlook.com with the details and a postal address.