---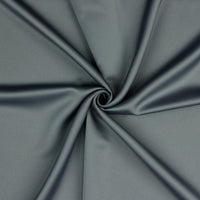 Royal Micro Satin - Grey
MICRO-SAT-GREY-50
Regular price £4.50
Tax included.
A beautiful soft polyester satin that has a subtle sateen sheen rather than a high gloss finish usually associated with satins. Because of this it has a high-end expensive look. Perfect for evening wear and day wear alike! Many shades available

Supplier suggests washing at 30 degrees. please allow for shrinkage and to be safe do a tester first.
Composition: 100% Polyester
Colour: Grey
Width: 146cm (57")
Weight: 140 GSM
Code: 5350-58
SKU:  MICRO-SAT-GREY
Colours may vary due to differences in computer settings. Please email us if you would like a sample of this fabric.