---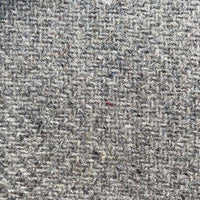 Recycled Wool Herringbone : Nippy Squirrel ( grey )
Regular price £14.50
Tax included.
NIPPY SQUIRREL HC02
Grey and Grey
This cloth is woven with the other colours to make the herringbone pattern!
100% Wool 
150cm Wide
weight 210g approx.
Colours may vary due to differences in computer settings.
If you would like a sample of any of the fabrics shown online simply email us at fabricfocus@outlook.com with the details and a postal address.