---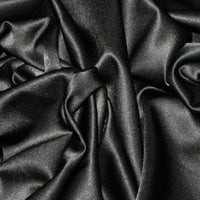 Prada Satin Back Crepe - Black
Prada-Reg-2-50
Regular price £6.00
Tax included.
Satin Backed Crepe is a beautiful fabric for draping and is truly reversible.
Satin and matt complements each other and both sides can be used in the same garment to add texture & interest.  PRADA, satin back crepe has a slight one way stretch across the fabric width, and is also anti-static.
Supplier suggests washing at 40 degrees. please allow for shrinkage and to be safe, do a tester first.
Composition - 100% Polyester
Colour - Black
Width - 150cm (59.1")
SKU - PRADA-REG-2
Colours may vary due to differences in computer settings. Please email us if you would like a sample of this fabric, fabricfocus@outlook.com