---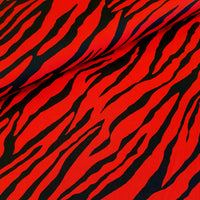 Polyester Jersey : Zebra Red
Regular price £6.50
Tax included.
ZEBRA

3642

Comp. 96% Polyester 4%Elastane

Width. 144cm/56"
Weight. 185gsm 
Embody the majestic zebra - with a twist - with this printed jersey
Polyester Jersey is a soft handle, slinky jersey, perfect for dresses skirts and tops.
We recommend using Mettler SeraFlex stretch thread in Black to sew this jersey, and don't forget to use Stretch Needles!