---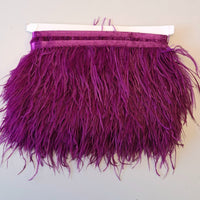 Ostrich Feather Trim - Magenta
OSTRICH-MAGENTA-100
Regular price £5.99
Tax included.
Super Luxurious Ostrich Feather trim, coloured and on co-ordinating coloured ribbon. Great for dressmaking, crafting, home decor and costume.

Comp: Natural Ostrich Feather
Colour: Magenta (13)
Length: Approx. 8-10cm
SKU: OSTRICH-MAGENTA
Colours may vary due to differences in computer settings. If you would like a sample of this fabric, email us at fabricfocus@outlook.com.