---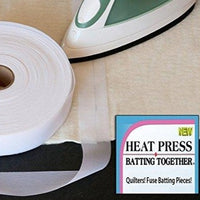 Heat Press Batting Together Tape
Regular price £8.99
Tax included.
The simple yet effective answer to joining pieces of wadding together without adding bulk.
If you find you have cut the wadding too small for your project or you simply start laying up and find that what you have won't fit, use Heat Press Tape to solve the problem!
Fine construction means that when quilted, the join will not show through the quilt top
15 yards (13.7 m) of tape 1.5" (38 mm) wide.