---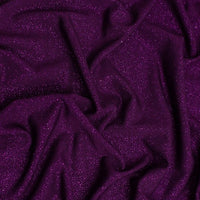 Dazzle polyester jersey - Plum
DAZZLE-PLUM-50
Regular price £7.50
Tax included.
'Dazzle'' Jersey is a soft handle, slinky jersey, perfect for dresses skirts and tops. Covered in a fine sparkly glitter finish!
Comp: 95% Polyester 5% Elastane
Colour: Plum
Width 147cm (58")
Weight:
SKU: DAZZLE-PLUM
Colours may vary due to differences in computer settings.
If you would like a sample of any of the fabrics shown online simply email us at fabricfocus@outlook.com with the details and a postal address.