---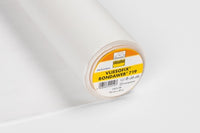 Bondaweb
Regular price £2.50
Tax included.
Bondaweb
Transparent
Properties
Iron-on adhesive on transfer paper.
100% PA
28 g/ m2 + Trägerpapier
30cm / 12" wide
Fabrics:
For joining fabric layers e.g. for appliqués, handicrafts or repair work. Suitable for all fabrics, raffia, cardboard, wood and, at low temperatures, also for leather.
Product benefits:
double-sided adhesive

accurate appliques

no shifting when zigzag-stichting
---
Description:
Draw the motif on the paper side of Bondaweb®. Cut out roughly.

Place Bondaweb® with the rough side on the wrong side of the fabric. Iron dry for 5 seconds.

Cut the motif out precisely, remove paper backing.

Place with the coated side down on the fabric, with a damp cloth  iron each area for about 10 seconds - step by step.

To complete the process, stitch the application with a zig-zag stitch. For additional stability, place Stitch-n-Tear underneath when needed.
---
Important notice
WE RECOMMEND TO TEST THE PRODUCTS BEFORE STARTING PROCESSING.
Product information taken from www.vlieseline.com

Colours may vary due to differences in computer settings. If you would like a sample of this fabric, email us at fabricfocus@outlook.com.

If you are looking for more meterage than is listed please get in touch and we will be happy to help!